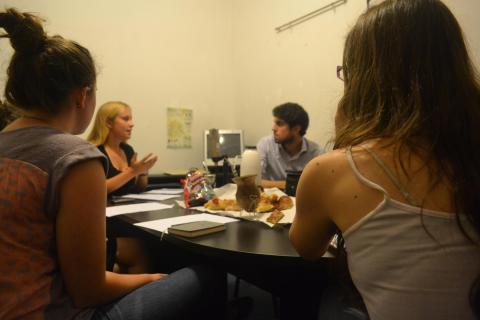 On February 14, 2015, members of CIPCE had a work meeting with members of the NGO Coordinated Actions against Human Trafficking (ACCT, by its Spanish acronym). ACCT is a civil society organization composed of anthropologists and other professionals. The objective was to analyze the criminal phenomenon of human trafficking (for both sexual and commercial exploitation), debating possible ways to make an impact on the economic side of this issue.
In order to do this, first, the members of ACCT explained the most common ways victims are taken or recruited, transported and exploited. Then, we did a brainstorming session, where we proposed market reduction approaches. There were approximately 50 measures/ideas for each one of the stages of this phenomenon.
The exercise produced several interest proposals to feed further discussions: ads with information for possible victims in websites that contain job offers; empowerment campaigns for vulnerable groups; analysis of bus tickets purchases; analysis of massive purchases of cel phones; among many others.